Thomas Paine Sixth Form Celebrates 70% A*-C grade A-Levels
Back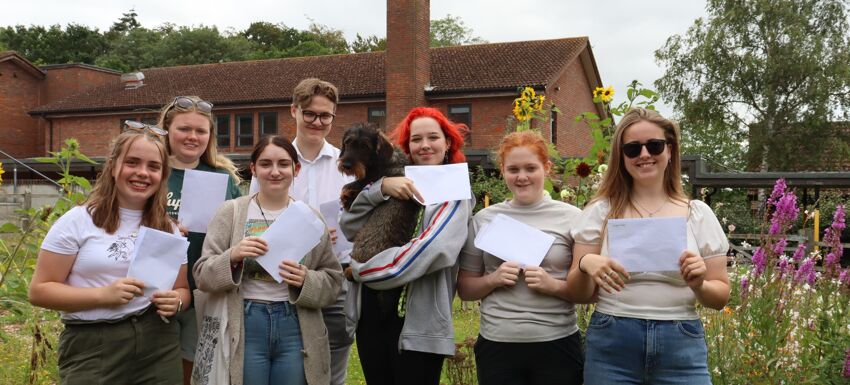 August 17th 2023
Today, students at Thomas Paine Sixth Form are celebrating their great A-Level results after seeing 70% of all grades at A*-C. The Sixth Form had particularly strong results in Computer Science, Music and Sports Science, with most students gaining Distinctions in their qualifications.
100% of students completing the Extended Project Qualification, where they pursue their own independent research project, achieved a Grade C or above.
There were many standout performances from individual students, with Cathy Blakey-Stoppard achieving A*AB across Physics, Chemistry and Biology which has enabled her to fulfil her dream of securing a place to study Veterinary Medicine at Surrey University. Joseph Fricker achieved A*AB and a Distinction in Computer Science, a subject he will now study at the University of York while Ray Machado achieved ABB and is heading off to study Law at the University of Southampton.
Sophie Cairns achieved a double starred Distinction in Sports Science and will study Physical Education and Sport while Adam Drew achieved a starred Distinction in Music, both of which will now continue their studies at the University of Lincoln.
Thomas Paine Sixth Form students have also had successes in gaining places on competitive apprenticeships. Liam Geraghty will be training as a chartered surveyor with ST1 Group, while Ruben King will be completing an apprenticeship in industrial automation and theatre control systems with K-AACtech.
Michael Fordham, Principal of the Thomas Paine Sixth Form and Thetford Academy, said:
"I am incredibly proud of our sixth form students. At Thomas Paine Sixth Form, we pride ourselves on offering a personalised approach to pastoral and academic support and are proud to have high aspirations for every one of our students. We have helped our students to set clear goals for the future and the grades achieved today are a result of their dedication to their studies, securing their places for university and the world of work. I would like to wish them every success as they move on to the next steps in their academic careers."
Head of Sixth Form, Helen Thomas-Jones said:
"Congratulations Year 13! The results today are testament to the students' hard work and it has been a delight to work with them to help achieve their goals. We wish them all the very best for their bright futures ahead!"
Nuna, Year 13 student at Thomas Paine Sixth Form who will be attending the University of Brunel in London to study Law, said:
"My teachers have been really supportive throughout my time here, they always pushed me to do better and I wouldn't have been able to do it without them, I couldn't have asked for better mentors."
Cathy Blakey-Stoppard, Year 13 student at Thomas Paine Sixth Form will be attending the University of Surrey to study Veterinary Medicine, said:
"I'm so excited to continue my studies at my first choice, Surrey University. Support has been amazing from staff and teachers when I was going through a tough period earlier in the year just before my exams."
Joseph Fricker, Year 13 student heading to University of York to study Computer Science, said
"Thomas Paine Sixth Form has been amazing, and all of my teachers have been great, I'm looking forward to starting my course in September."
Thomas Paine Sixth Form will be hosting this year's Open Evening on Thursday 12th October from 6pm to 8pm and encourages those interested in applying for the sixth form to attend for a tour of the modern facilities, hear about their free transport scheme, and to speak to current students, teachers, and the Principal about how Thomas Paine Sixth Form can support them in reaching their future goals.