Thetford Academy History Teacher Achieves Master's Degree from University of Cambridge
Back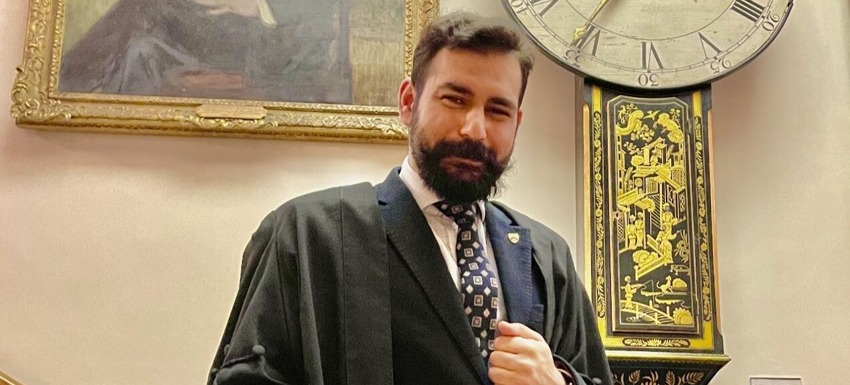 July 18th 2023
Thetford Academy is delighted to announce that Ijaz Karim, one of their esteemed History teachers, has passed his Master's degree in History from the University of Cambridge.
Mr Karim first studied at Brunel University London, where he received a First Class BA in History. His undergraduate dissertation focused on 'Religious violence during the Partition of India 1947'. Mr Karim said:
"Studying history has always been a great passion for me. This was instilled at an early age by my own History teacher at Old Buckenham High School, Miss Dawson. I also saw my mother, Safina Karim, who is an English teacher as a role model. This influenced me to apply for the Inspiration Trust's SCITT course after graduating."
Mr Karim's first year of teaching coincided with the second Covid lockdown. As an NQT, his academic mentor was Michael Fordham, the now Principal of Thetford Academy. It was during these weekly sessions that Mr Karim was inspired by Mr Fordham to pursue further academic study. Mr Fordham suggested the Cambridge MST course, which offered a highly competitive part-time Master's Degree. After submitting his research proposal and passing an entry interview, Mr Karim was successfully admitted to Wolfson College, Cambridge.
His Master's Dissertation was focused on 'A study of Indians in Kenya 1896-1963', with a particular focus on the Mau Mau uprising. This topic had personal significance as his family emigrated to London from Kenya in the 1970s. Whilst teaching, Mr Karim has spent time researching Thetford's local history, fascinated by the influx of settler migrants in Thetford, stretching back to the Roman Empire.
Mr Karim has spent the past two years teaching and working on his Master's. Although this has been a busy time, he would wholeheartedly recommend the Cambridge MST for any interested in further study whilst working. He will be attending the graduation ceremony at the Senate House in Cambridge once dates are announced.
Mr Karim said:
"As an individual who chose to travel out of Thetford for my early education, I saw it as a personal duty to reinvest my knowledge into my hometown, which has had historical stigma surrounding education. I feel proud and privileged to teach in Thetford and I am pleased that the standard of education at The Thetford Academy continues to grow year on year.

I would like my achievements to stand as an example to inspire children from Thetford, that with hard work and determination, they too can succeed and surpass barriers of class or wealth.
I'm very pleased with my recent Master's achievement. I'll be taking a year off from studying to work on my new home. In the future, I fully intend to undertake further study at doctorate level. I advise anyone who wishes to conduct further study to do so!"