Thetford Academy's Underwater Musical Extravaganza is Sensational Success
Back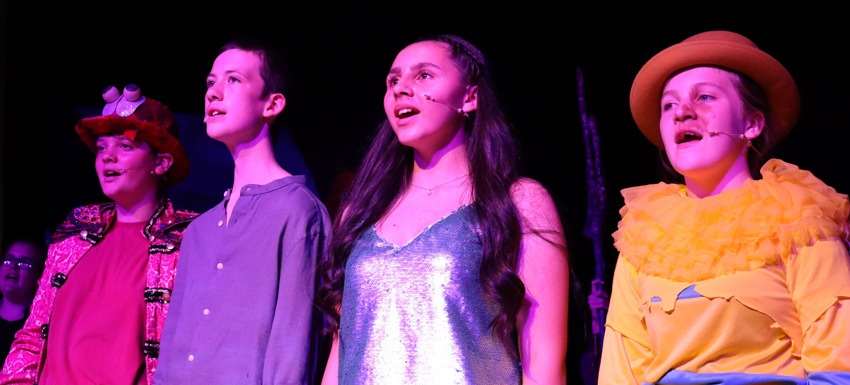 June 30th 2023
On the evenings of Tuesday 27th, Wednesday 28th and Thursday 29th June, students from Years 7 to 10 took part in an outstanding musical performance of the well-known Disney story, The Little Mermaid, coinciding with the release of the live-action film in cinemas. The three performances took place in Thetford Academy's auditorium with the students wowing audiences of 260 people, receiving a standing ovation each night.
The students were given a taste of what it's like to perform in a professional production, from the initial audition process, through to rehearsals and the final performances. The production was accompanied by professional lighting and sound with staff and student technicians on hand throughout.
Those that weren't in the production cast were able to be involved in all aspects that take place behind the scenes including building the sets and scenery, managing the stage, and assisting with costumes and hair and make-up. The production has been an exceptional group effort, including the time and skills donated by the art teachers and students who contributed to the production by creating the underwater set, superb props and elaborate costumes, including octopus headdresses, sparkling mermaid tails and ornate crab claws.
The production was also an excellent opportunity for Thetford Academy to continue to build on its valuable partnerships, working closely with Echo Youth Theatre, a Norwich-based Youth Theatre who are committed to supporting young people in performing arts. The group who put on a production of The Little Mermaid last year, were delighted to be able to lend a hand with Thetford Academy's production, offering support with costumes and the set. In turn, Thetford Academy music department and Thetford Music Project leant them a plethora of musical instruments for their recent production of School of Rock.
On the evening of the first performance, the audience were invited to join in for one final song. Year 8 student, Lily, who performed the lead role as Ariel, was celebrating her 13th birthday and Principal, Michael Fordham led the production cast and audience in a rendition of 'Happy Birthday to you' to mark the occasion.
Principal of Thetford Academy, Michael Fordham said:
"I am delighted that we have had such a fantastic performance of The Little Mermaid here this week. Our production is the result of countless hours of rehearsals since the Autumn Term. Not only is it a result of the wonderful performances by our students, but also of those who worked on set design, managed the back stage and support front-of-house.

I am grateful to all of our Performing Arts team who have put so much hard work into supporting students over this year, and I am already excited about future productions at the school. Performing Arts has been transformed at the school in recent years, so keep an eye out for future performances."
Curriculum Leader for Performing Arts at Thetford Academy, Laura Hodges said:
"We're so proud of everything that the students have achieved. They've been working incredibly hard since November on this production learning about props, costumes, set design, choreography and direction. I would like to say a huge thank you to the art department for their incredible support throughout this process. Their set, scenery and props look absolutely beautiful. Thank you to everybody at the school who has contributed in some way."
Lady Kay Fisher, Chair of Thetford Academy's Committee said:
"Next stop Glastonbury or Edinburgh Fringe! What a wonderful evening under the sea."