Liz Truss and Dame Rachel de Souza Praise Thetford Academy Following Visit
Back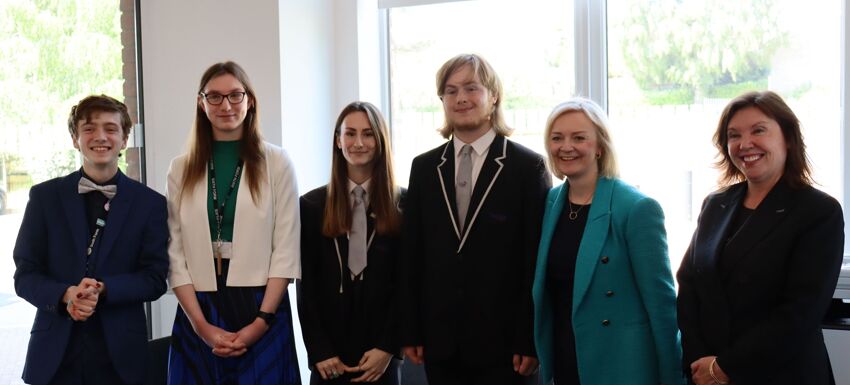 June 13th 2023
On Friday 9th June, Former Prime Minister and MP for South West Norfolk, Liz Truss, and Children's Commissioner for England, Dame Rachel de Souza visited Thetford Academy to see how the thriving school operates, and meet its outstanding students and dedicated team of staff.
Liz Truss and Dame Rachel de Souza started the day speaking to two Thetford Academy students and two A-Level students from the school's Thomas Paine Sixth Form to hear about their plans for the future and to understand how to make Mathematics more accessible to students.
Principal of Thetford Academy, Michael Fordham then led a tour of the school taking Liz Truss and Dame Rachel de Souza in to see a reading intervention session, which is an initiative that was used in an Ofsted case study in 2022, and involves students receiving one-on-one reading support with teachers outside of the usual curriculum. The tour then moved to the Food Technology department where the two visitors were able to explore the school's extensive facilities and speak to the Department Lead, Katherine Mackintosh about the importance of the subject within the curriculum.
Liz Truss and Dame Rachel were then treated to an insight into the school's excellent musical offering with a performance by the newly formed Thetford Academy gospel choir. They also got to witness a band rehearsal in the school's brilliant recording studio and see several students practising the likes of bassoons, French horns and piano with each student giving Liz Truss and Dame Rachel a short rendition of a piece of music.
Principal of Thetford Academy, Michael Fordham said:
"We were pleased to welcome Liz Truss and Dame Rachel de Souza to Thetford Academy today to share our work on teaching reading and to show the wide range of music provision our school now offers, with our gospel choir, rock band and instrumentalists all showing what they can do. This is an exciting time at Thetford Academy and it was great to be able to share some of the wonderful things that our students and staff are doing."
Dame Rachel de Souza said:
"It is great to see Thetford Academy going from strength to strength. The school has an incredible ethos and I greatly enjoyed seeing the continued commitment to music, maths, and reading. Thank you to Principal, Michael Fordham and the brilliant students for showing us your wonderful school."
Liz Truss said:
"It's brilliant how well students at Thetford Academy are doing. Whether it's the excellent sixth form, the strong maths provision or the superb musicians - the school is providing a great education."