Winners Announced for Trust-Wide Climate Competition
Back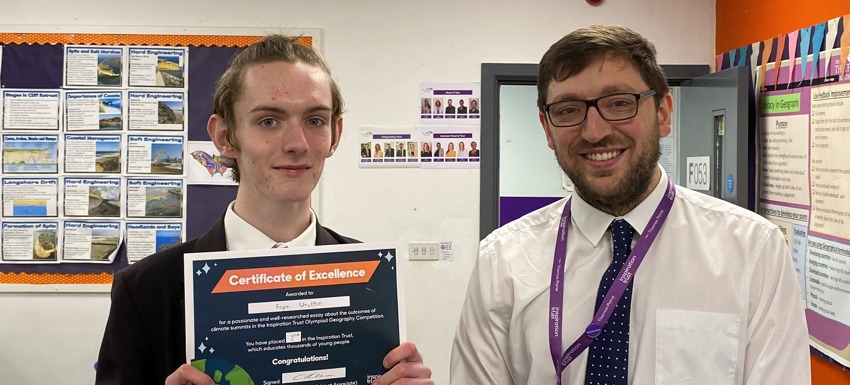 January 23rd 2023
Pictured: Second place winner, Frynn at Thetford Academy and Inspiration Trust's Subject Associate for Geography, Chris Moon
---
In October, students from schools across the Inspiration Trust were invited to take part in an olympiad geography competition by writing an essay responding to the question "How do you feel about the outcomes of the recent climate summits?"
Entries were welcomed from Year 7 to 13, with a limit of 800 words per essay. The project was developed by Inspiration Trust's Subject Associate for Geography, and Joint Curriculum Leader for Geography at The Thetford Academy, Chris Moon.

In November 2021, the UK hosted the 26th UN Climate Change Conference of Parties in Glasgow ('COP 26') where world leaders discussed the climate crisis. Nearly 200 countries signed the Glasgow Climate Pact. However, in the months since the conference, wide-ranging concerns were raised about the true impact of the Pact on reducing global heating.

Chris Moon said:
"I wanted to give our young people an opportunity to be heard, to raise their concerns and frustrations on an issue that will very much impact their lives. I was delighted by the response, we had nearly 100 essays submitted. It's clear that our students feel passionately about the topic, some offered solutions and some expressed their despair - it was a powerful experience to read through them."
Entrants could win a certificate, their essay published on the Trust website, a copy of Tim Marshalls' 'Power of Geography', a voucher for a family ticket for a day out and a Fitbit. Third place was awarded to Year 7 student, Kacper Czopek from King Edward Academy, second place was won by Frynn Strutton in Year 9 at The Thetford Academy, and first place was awarded to Alyssa Bassett-Oldfield, in Year 9 at Great Yarmouth Charter Academy.
Frynn said:
"I'm so grateful for winning second place; I've been highly passionate about climate activism from a young age, and I always advocate any form of climate justice whether local or global. I hope to continue expressing my love of geography in the future, either in a professional field or on a more personal level."
Alyssa said:
"I am extremely grateful that I won this competition and I am mainly grateful for the opportunity that was given to all young people in the trust. I feel that it is imperative that people my age and younger are given outlets for their beliefs on topics that will affect us and future generations."
Chris said:
"It was a pleasure to see so many of our young geographers engaging so deeply with the news around the COP climate conferences and writing with flair and enthusiasm about solutions to the climate crisis. Alyssa, Frynn and Kacper submitted passionate, well-researched and thought-provoking entries to this year's Trust Olympiad Geography competition. Huge congratulations to them all."