Thetford Academy Sixth Form students celebrate their successful A-level Results.
Back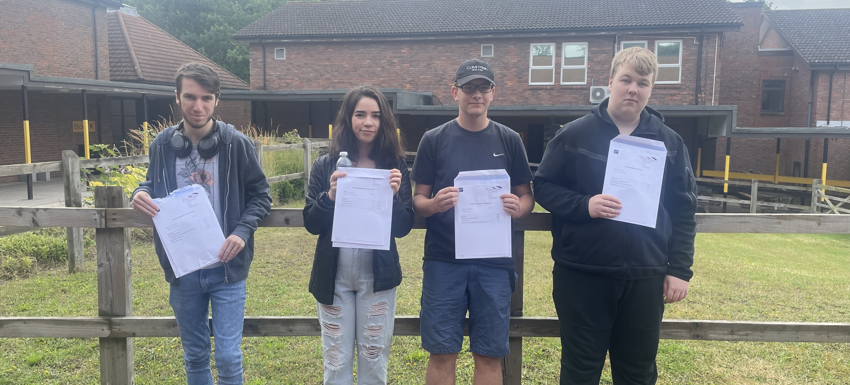 August 11th 2021
Congratulations to the students of Thetford Academy Sixth Form who have performed brilliantly in this year's A level results.
The cohort of pupils achieved 86% of Grades A* to C. Thetford has also gained great top results with 64% of grades being A* to B and 35% A or A*. This is a significant achievement
Thetford Academy Sixth Form is a fully inclusive sixth form with the aim of delivering good-quality, relevant courses that meet the needs of all our students. Thetford's strong set of A-level results has shown the support and quality of the courses they have provided to their students, as well as their students' capabilities and resilience.
Principal, Dan Carter said: "I'm full of pride and admiration for our Year 13 pupils as they collect their results today. The most important thing is that these grades enable our students to progress successfully to their desired destination. I'm pleased to say that the vast majority of our students have places at their chosen university, with an increased number going to top providers.
"Year 13 got record breaking GCSE results in 2019 and they have done the same at A-Level in 2021. The class of 2021 have proved again what young people from Thetford are capable of and these grades are fully deserved. I'm proud of our students' hard work and resilience, especially considering the challenging circumstances they have faced in the last 18 months.

"I offer my sincere best wishes to the class of 2021, they will be very fondly remembered at Thetford Academy."
A special well done to these student who achieved excellent results:
Mateo, achieved a A* in Maths, A in Chemistry, A in Physics and A in Spanish, with these incredible results they have secured themselves a place at The University of York to study Physics and Philosophy. Mateo said: "I am incredibly happy, I was really nervous but after seeing my results I am so so happy!"
Also going to The University of York is Julia Vlckova, who is going to study Psychology after achieving an A* in Criminology, A* in Psychology and an A in History.
Another Science star form Thetford is Maria De Oliveria who is going to Queen Mary College in London to study NeuroScience after achieving an A* in Biology, an A in Chemistry and a B in Physics.