Thetford Academy celebrates being a Maths Super School
Back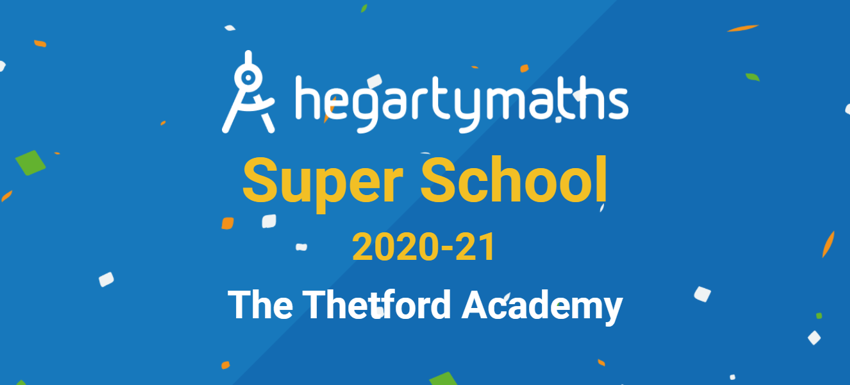 July 14th 2021
Norfolk school named one of the top-performing schools in the country on HegartyMaths. Staff and students at Thetford Academy are celebrating after being named one of the best performing schools in the country for HegartyMaths for the second year running. HegartyMaths, an online Maths platform which tests hundreds of different skills through thousands of individual questions, is used in conjunction with the school's existing maths teaching to support students.
Only a small number of schools make the Super Schools list each year, and only when students across the school are inspired to pursue their maths work with renewed vigour. During the last academic year, students answered more than half a million questions and completed more than 17,800 hours on the platform, while their MemRi goal placed them in the top 16 of all schools using the platform across the country.
HegartyMaths is used by half the secondary schools in the country, meaning that Thetford Academy has triumphed over nearly two thousand of their counterparts. HegartyMaths Super Schools are associated with some of the finest maths departments in the nation.
Jake Brown, Maths Teacher at Thetford Academy, said:

"We are all delighted to be named a HegartyMaths Super School for our second year in a row! Our students have worked so hard with their maths learning and it's great for them to have the extra practice. Being recognised for all their efforts really helps them stay motivated as well, which is fantastic."

Dan Carter, Principal at Thetford Academy, said: "Well done to all our students for their hard work and on gaining this fine achievement. At Thetford we know how important maths learning is for our students and it is so good to see how much work they are willing to put in every single day. Despite the challenges of the last year, our students have continued to impress us, and I have every confidence that this will continue."