Pupils celebrate reading at the Inspire Laureate awards ceremony
Back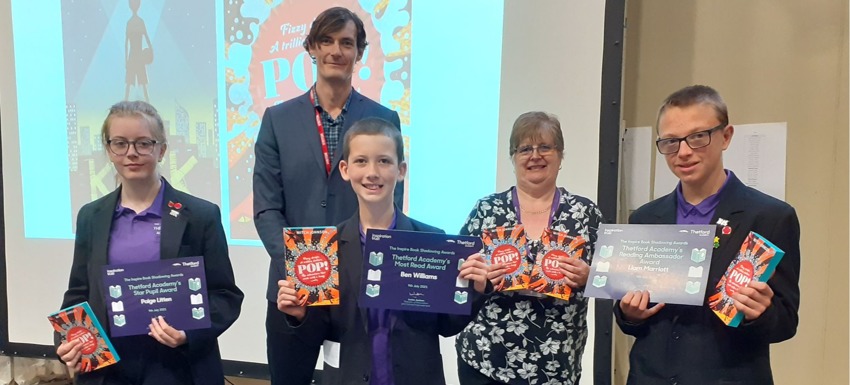 July 14th 2021
Pupils from seven Inspiration Trust secondary schools, including Thetford Academy, took part in a lockdown book shadowing event and finally met face to face when they came together to celebrate their achievements and promote the importance of reading.
From April 2020, around 80 students from Years 7 and 8 each read 12 books and participated in regular book meetings within their school groups to discuss what they had been reading. The list of books was created by the school librarians with the aim of encouraging reading amongst pupils during the Covid-19 lockdown.
To acknowledge the achievement of the pupils and present awards a new annual awards ceremony - Inspire Laureate Event - was held at Thetford Academy. The awards included:
'The Inspire Laureate Award' the book voted most favourite by all the participating schools, was won by We Were Liars by E. Lockhart
'Individual School Awards' for each individual schools' favourite book
Individual schools awarded 'Star Pupil', 'Reading Ambassador' and 'Most Read' awards to their pupils.
Thetford Academy voted We Were Liars by E. Lockhart as their favourite book. Thetford's Pupil Awards were awarded to Paige Litten for 'Star Pupil', Liam Marriott for 'Reading Ambassador' and Ben Williams for 'Most Read'. Well done to them and an additional well done to all of Thetford's pupils that took part.
Louise Jackson, Director of Education and School Improvement for the Inspiration Trust, said: "I was delighted to be part of this wonderful Inspire Laureate event and to see our school community coming together to celebrate their shared love of literature and their enjoyment of reading."

"Research suggests that not only the process of learning to read, but also reading for pleasure can influence a child's academic success, vocabulary development, and mental health and wellbeing. We want our pupils to not only develop fluency as readers, but a curiosity and enthusiasm for books and the questions they pose about the world around them."
Local young person's author Mitch Johnson was invited to talk to the children about the importance of reading as well as his new book, POP!. A copy of the book was given to the winning pupils and also the seven school libraries.
Mitch, who lives in Norwich with his wife and daughters, studied English Literature with Creative Writing at the University of East Anglia. After graduating, he then wrote his debut novel, Kick, which won The Branford Boase Award 2018.
The other schools Involved in the book shadowing event were
• Jane Austen College
• Wayland Academy
• Hethersett Academy
• East Point Academy
• Cromer Academy
• Hewett Academy
Mr Patterson, Deputy Head of English and Reading Strategy Lead, Wayland Academy Norfolk, said:

"The Inspire book shadowing aims to do one thing, to bring together our readers from around the trust and celebrate the power, beauty and significance of literature. Reading is the master skill of education, unlocking a plethora of possibilities, opportunities and ideas for each generation."

"As a trust, we want to harness this power and infuse it into our students; the shadowing event is an excellent start, but we will return year after year, reinforcing our communities with the notion that reading is the lifeblood of education."

"Celebrating with students, librarians, executives and authors has been an absolute pleasure, and we cannot wait to see it grow in the future."