Thetford Academy benefits from generous laptop donation to combat digital divide
Back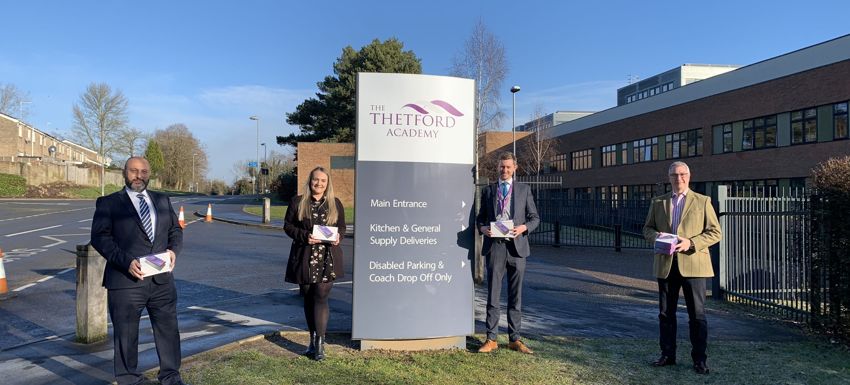 February 4th 2021
The Thetford Academy has gratefully received a donation of 10 new tablets by local estate agents, Chilterns. Chilterns are marking their 21st anniversary milestone with a range of charitable projects.
The donation supplements around 200 devices already distributed to local families. We have also provided wifi dongles and worked with the broadband providers to ensure that our families have internet access during the lockdown, so that children can continue to learn whilst at home.
The 10 new Lenovo devices are being prioritised for children who have no device at home, or for those that are sharing with a parent or sibling. We have also focused on providing tablets for pupils who have been relying on their smartphones to access remote learning.
Dan Carter, Principal, said: "This very generous donation will help to make sure there isn't a digital divide at our school. We've been working hard to deliver tablets and internet access to children in need - but these extra devices will help us to go one step further. It's fantastic to see the community coming together to make sure everyone has access to our excellent remote learning resources."
Chilterns Directors; Yannis Prodromou and Neil Pettit said: "The fight against Covid-19 has certainly brought us together as a nation and the future of our children's education has never been more important. With so many pupils learning from home, it is important that they all have the same opportunities and access to technology should be available to all. With this in mind, we wanted to help where we could and therefore decided to donate some new Lenovo tablets to local schools to distribute to those students who have limited access to devices whilst learning from home."